John Harner, Ph.D.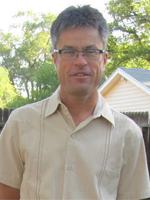 John Harner, Ph.D.
John Harner is a professor of geography at the University of Colorado at Colorado Springs (UCCS). He earned a Ph.D in geography at Arizona State University. His areas of interest include: Political Economy of Place; U.S.- Mexico Connections and Integration; and The American Urban Landscape. He received a Fulbright Scholar from Guadalajara, Mexico in 2005 and received the Innovations in Teaching with Technology Award from UCCS in 2002. He was the Chair for the Department of Geography and Environmental Studies at UCCS from 2009 to 2015 and currently serves on the Board of Directors for the Catamount Center for Geography of the Southern Rockies.
In collaboration with museum director Matt Mayberry, John Harner helped create The Story of Us, a new free exhibit at the Colorado Springs Pioneers Museum. Several years ago, Dr. Harner pored over the museum's extensive map collection during a sabbatical, he and Mayberry began to brainstorm ways to make the collection more available to the public. The Story of Us allows users to explore the history and geography of the area using 21st Century technology. The exhibit consists of two components. The first component features two large-scale touchscreen computers with 26 squares resembling classic wooden blocks. Each letter transports the viewer into a historical topic related to Colorado Springs. The second component features 100 real life artifacts in 26 mini exhibits throughout the gallery, each complementing its corresponding letter and theme.
Tom Huber, Ph.D.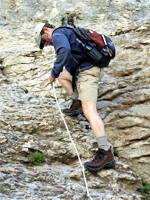 Tom Huber, Ph.D.
Tom Huber is a geography professor at the University of Colorado Colorado Springs. He received his PhD in geography at the University of Colorado Boulder in 1980. Huber's areas of interest include: Colorado geography, mountain geomorphology/soils and remote sensing for resource management. In 2012, he received the University of Colorado Thomas Jefferson faculty award. Huber is a board member of the Rocky Mountain Field Institute and the Catamount Center for the Geography of the Southern Rockies. He serves on the Vice Chancellor's Review Committee and is the director for UCCS 'Cafe Scientifique'.
A new website of Tom Huber's publication, the Hayden's Landscapes Revisited, offers a historical time-lapse of space over time. It lets you compare Colorado's past to Colorado's present. Huber searched out locations where artists sketched landscapes in 1873 for the Hayden Geological Survey. His photos and drawings are placed side by side online at Hayden's Landscapes Revisited. Huber says some of the landscapes have changed quite a bit and others hardly at all. The Hayden Survey, along with others, eventually became part of the United States Geological Survey.
Check out his publication online to learn more.
Mike Thompson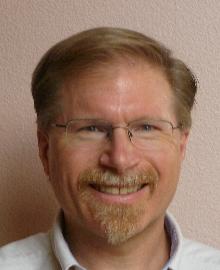 Mike Thompson, Geospatial Programmer, CACI International Inc., Fort Collins, CO
Mike Thompson works with CACI International Inc. in Fort Collins as a manager and geospatial programmer.  At CACI, Mike works with both proprietary and open source packages, and has a particular interest in machine learning and machine vision topics.  Mike received a degree in Computer Science from Baldwin Wallace College in Berea, OH.  In addition to his geospatial work within the professional sphere, Mike heavily contributes to humanitarian mapping efforts across the globe. 

There are a number of types of "humanitarian mapping." Mike's efforts are primarily focused on the creation of foundation feature data; for example, data representing roads, buildings, land use, land cover and hydrography. These data are used by aid organizations-such as the American Red Cross, the British Red Cross, and Doctors Without Borders-to plan and administer the delivery of aid to some of the most vulnerable populations on Earth, especially in the aftermath of disasters, such as the 2015 Nepal Earthquake.  These data help answer questions like: "where are the people that need help?", "What roads might be suitable for delivery of aid or evacuation?", or "where are candidate helicopter landing zones near damaged areas?"  These data are entered into OpenStreetMap (OSM) by volunteers-both remotely and locally-using free, easy-to-use software tools.  OSM is a collaborative project that is creating a free editable map of the world.  Because of it is freely licensed-and therefore sharable with everyone-it is an ideal platform for humanitarian mapping.  A number of organizations exist to help promote and coordinate this humanitarian mapping, including the Humanitarian OSM Team (HOT), and the Missing Maps Project. 
Although humanitarian mapping can be done from anywhere with an internet connection and laptop computer, humanitarian mapping efforts can be more fun with group participation, also known as "Mapathons".  Mike hosts a number of these mapathons across the Front Range region.  Each mapathon typically focus on one humanitarian project, and starts with someone giving an overview of the project and demonstrating the mapping tools, and then the group maps the necessary data for the project while socializing and collaborating.  In addition to hosting mapathons, Mike also presents to community groups and students about OpenStreetMap and humanitarian mapping. Anyone can contribute to humanitarian mapping.  It is easy, takes less than 10 minutes to get started, and there are plenty of online resources to help you along the way.  If you would like to learn more or you'd like to get involved in humanitarian mapping in our region, please email Mike Thompson at miketho16@gmail.com.
Jeff Derry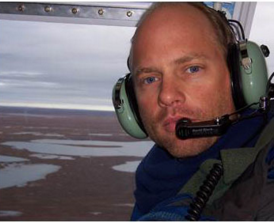 Jeff Derry, Incoming Executive Director, Center for Snow and Avalanche Studies
Jeff Derry, a University of Colorado Colorado Springs alumnus, is the new Executive Director of the Center for Snow and Avalanche Studies (CSAS) in Silverton, Colorado. Jeff's passion for Polar Regions led him to work seasonally in Antarctica and Greenland. In Antarctica, Jeff held positions such as oceanic research associate, fuels supervisor, mechanic, and Manager of Marble Point located at the base of the environmentally fragile McMurdo Dry Valleys. In Greenland, Jeff oversaw and conducted multidisciplinary scientific investigations at the summit of the Greenland icecap. Jeff returned to school and earned a M.S. in Watershed Science from Colorado State University with an emphasis in snow hydrology.  For a period of five years Jeff worked for GW-Scientific in Fairbanks, Alaska.  After that, Jeff returned to Fort Collins and consulted with Golder Associates. Now Jeff continues his work at the Center for Snow and Avalanche Studies where he utilizes his skills and experience to contribute to the future development of CSAS and its mission to study snowpack in the San Juan Mountains in Colorado. Learn more about Jeff and his work on his page at The Center for Snow and Avalanche Studies website.
Kevin Knapp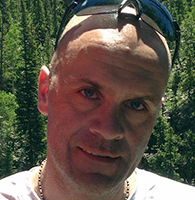 Kevin Knapp, President of Tiera Plan, MA in Geography from UCCS
Entrepreneur, software architect, geographer, geologist  
Applied Geography for me is creating technology solutions so people can explore and visualize relationships between things. I started a successful company that creates web-based mapping software and digital tools using GIS (Geographic information Systems). We combine map data with non-spatial data, allowing people to visualize their data in ways they never did before. My background is an odd combination of earth science, database development, software programming, business, and the outdoors. Now I work with interesting organizations all over the world. We help people use their GIS data so they can make better decisions and manage resources. Geography has enabled me to work with the US Army in Europe, Oil and Gas companies in the USA, sugar beet farmers in North Dakota, philanthropists in New York, surveyors in Australia, hydro-electric energy developers in Brazil, and even the Pioneers Museum here in Colorado Springs. Check out Kevin's company website Tierra Plan.
Casey Allen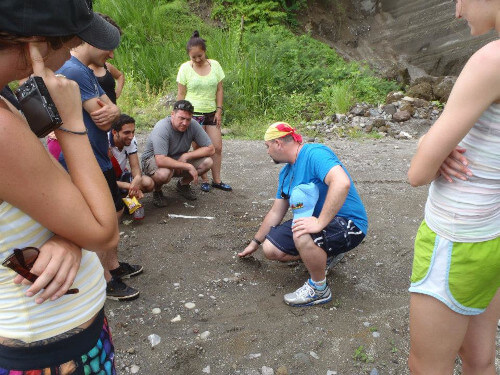 Casey Allen, Geographer, PhD, Assistant Professor, Geography and Environmental Sciences, University of Colorado Denver
"My penchant for fieldwork has allowed me to stay broadly-trained and pursue all sorts of research. Currently, I focus on demonstrating that fieldwork enhances learning using my expertise in rock decay science and sense of place. Regionally-speaking, my specialties include Arid lands, Japan, US-Mexico Borderlands, and the Lesser Antilles.  Education remains paramount in my life and my dedication to students has paid off in three prestigious accolades: being named an "Early Career Scholar" by the Grosvenor Center for Geographic Education (2012), having students select me as the Outstanding Student Mentor for the CU Denver/Anschutz Medical Campus (2013), and being awarded Excellence in Teaching by CU's College of Liberal Arts & Sciences (2014). Overall, my goal rests in spreading Geography, helping diffuse it over space-time, improving people's perception of it and its applicability."
Audrey Mohan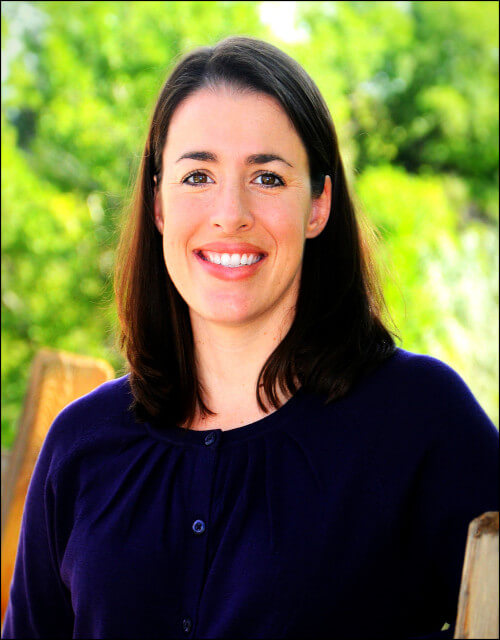 Audrey Mohan
"Today I find myself working at the intersection of geography and science education, as a research associate at BSCS, a science education non-profit in Colorado. My favorite  project right now is an elementary video-based lesson analysis project, under the direction of Kathy Roth. It is a curriculum and professional development program in which elementary teachers  work in cohorts to watch and analyze videos of classroom science teaching and learning to better understand student thinking and misconceptions about big ideas in science.  I have worked with  teachers in grades K, 2, 4 and 6 on topics such as uneven heating of Earth's surface, plate tectonics, weathering and erosion, landforms, and weather."
Angela Cunningham and Melissa Harkavy with Their "Landscake", an Edible Landscape Cake

Once a month at CU Boulder, the campus hosts a "creative evening", open to the whole camps,  so students can get together, mingle, and share ideas. This month, the event consisted of a cake decorating class, with the theme "What Does Life at CU Mean to You?" These two students, Angela and Melissa, show off their Colorado cake, featuring delicious topography and a mouthwatering river. Now, this is what geographers do!

John O'Loughlin, Professor of Geography at CU Boulder

John is a Professor and studies climate/environmental change and conflict, as well as political geography. Recent research projects include studies on public opinion in contested areas of the former Soviet Union. Current events in Ukraine are changing the political map of Europe, and challenging the geopolitical settlement agreed to after the collapse of the Soviet Union. The goal of this research, which began on May 15, 2014, is to record and analyze the attitudes of residents in the de facto regions and in the pro-Russian regions. O'Loughlin received a NSF grant for the project "Attitudes and beliefs in Russian-supported 'de facto' states and Eastern Ukraine in the wake of the Crimean annexation".

View John's website for more info!

UCCS's David Havlick Bikes the Iron Curtain

David Havlick UCCS Associate Professor of Geography and Environmental Studies, David Havlick, describes his time bicycling along the Iron Curtain. "During part of my fall 2013 research sabbatical, I bicycled for 1200 km along the former borderlands of central Europe, from Bratislava, Slovakia to Rasdorf, Germany. The former death strip of the Iron Curtain dividing Europe has been replaced by 'the Green Belt of Europe', as national parks and biosphere reserves now line the area once fortified with control roads, high voltage fencing, and guard towers. In 2005, the European Union formally recognized an Iron Curtain bicycle route that runs 6800 km from the Barents Sea to the Black Sea. As part of my ongoing research into how militarized landscapes transition into new geographies of conservation, I was impressed by the creative use of art to commemorate the violence and dislocation of the Iron Curtain, while also opening these lands to new meanings and interpretations."

CSU's Melinda Laituri featured in the Coloradoan

Ph.D. Melinda Laituri gives an insightful interview to Madeline Novey of the Coloradoan on her life as a geographer.  You can also find information on Melinda's talk at our own Night With a Geographer, here on the COGA website. Spring, 2014

3-D for Teaching: Stereoscopic Visualization in Geography Classrooms, Dr. Peter Anthamatten, Sept-Oct 2013

GIS Education Community, Dr. Joseph Kerski, Summer 2013

Mapping the Nation by Susan Schultan, Spring 2013
The Wildland-Urban Interface (Rutherford Platt), Winter 2013
Did you know that Kansas is flatter than a pancake?
How did all of the trees get here?
Cultural strategies of development: implications for village governance in China
How Pueblo, Colorado has incorporated the chile pepper as its official symbol in an attempt to recreate its identity
Karen Barton: Nature-society interactions and resource conflicts in wetlands and fisheries of South America and the US Pacific Northwest

CU-Boulder Assistant Professor Najeeb Jan was featured in the Spring 2010 Coloradan discussing politics and identity as related to Pakistan

Pueblo County GIS Manager Chris Markuson ensures residents understand how important it is to have an up-to-date and reliable geospatial technology system. Check his explanation on the Pueblo County website.